"Madrasi" colony, a settlement in Delhi, stands in stark contrast to the affluent South Delhi residential complexes which surround it. The colony derives its name from its inhabitants, migrants from Tamil Nadu, primarily, Chennai and areas on the outskirts of the city. The settlers live in small shanties along the railway tracks, (re)-claiming spaces for themselves in a city which has continuously pushed them towards the margins by a developing city. The residents of the colony have been living in the area for over two decades now and they make a living as daily-wage labourers, carpenters, sweepers, and domestic help. The project explores the everyday lived experiences of the inhabitants of the colony.
I stumbled across the settlement by chance. As I walked along the tracks and deeper into the settlement, I was greeted with many friendly smiles and few suspicious glares. Over the next few weeks I was able to make new friends who were kind enough to invite me to their homes. I found that most men in the colony worked as daily-wage labourers and were plagued by drug and alcohol abuse, a common pattern across squatter settlements in the city.
What interested me the most were the women of the colony, strong and resolute, most worked as domestic helps in the large and luxurious residential complexes nearby. The sole bread-winners of their family, most of them were forced to start working at a very young age because the men couldn't provide for them.
Through the series of photographs, I try to show how these women despite all the setback and scarcity, have carved out their own space and lives out of sheer will. How in the face of patriarchy, defined social roles (mother, wife), class inequalities and gender biases, they practice their agency in deciding the route they take and show that women need not always be seen as victims.
The photos also explore the importance of socio-spatial identities, customs and traditions in their daily lives not only as a source of familiar but also a coping mechanism amid the chaos. The clothes they wear, the religious symbolisms, their homes, and even their political figures reflect how their culture offers them a safe space in an alien land and unfavourable circumstances.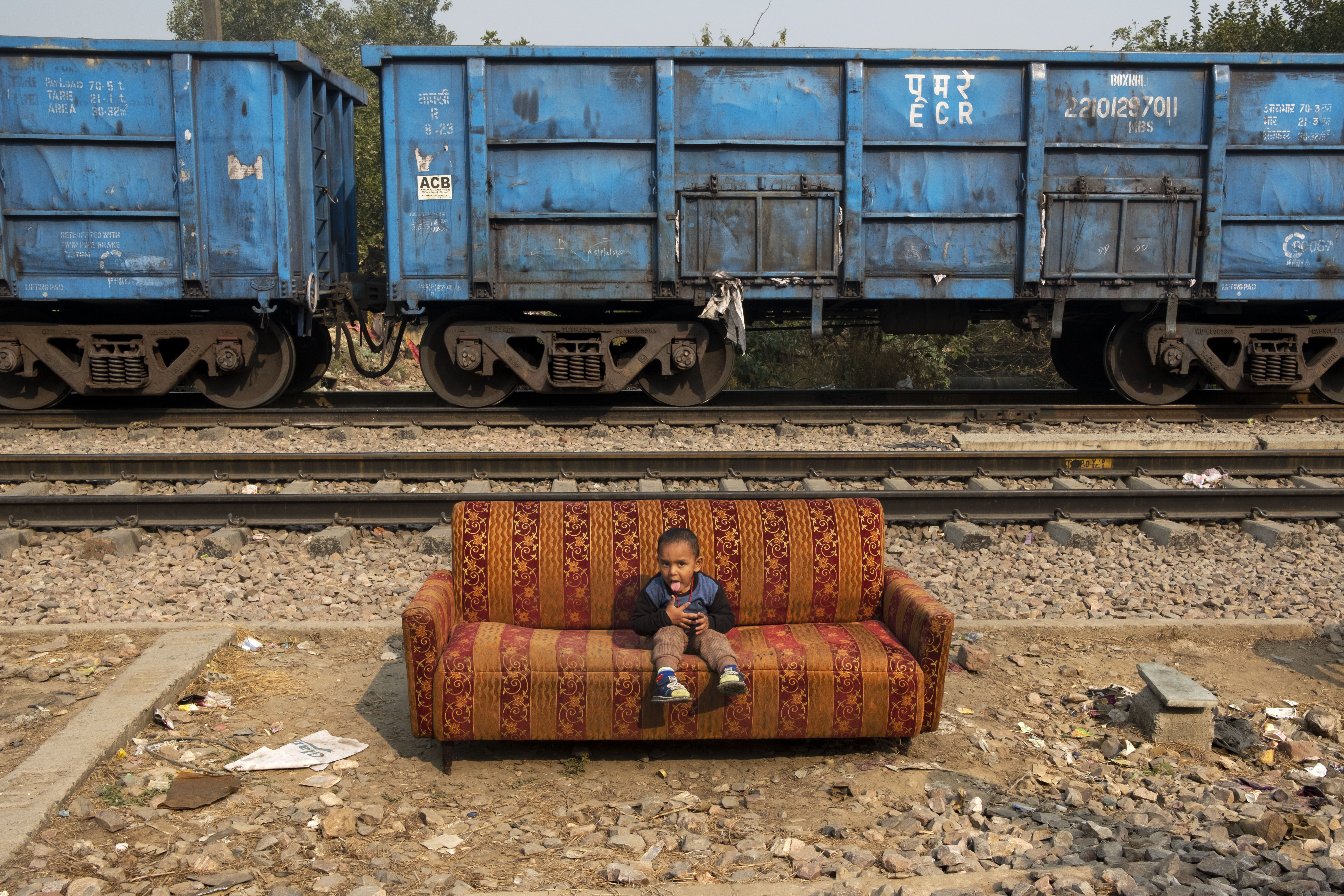 A young boy sits on the sofa kept in between the railway tracks.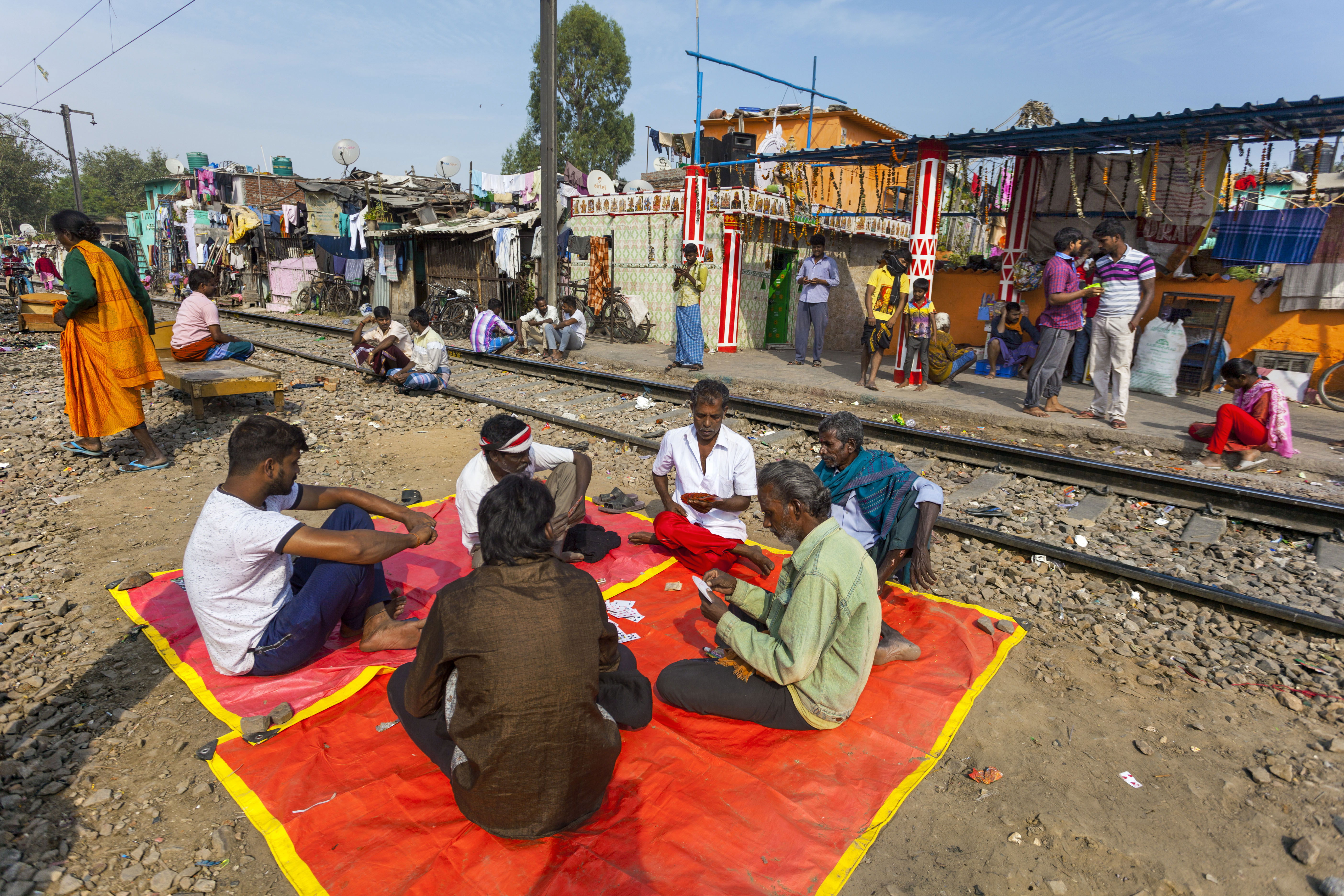 A typical Sunday winter morning at the tracks of Madrasi Colony where people are basking in the sun, group of men playing cards.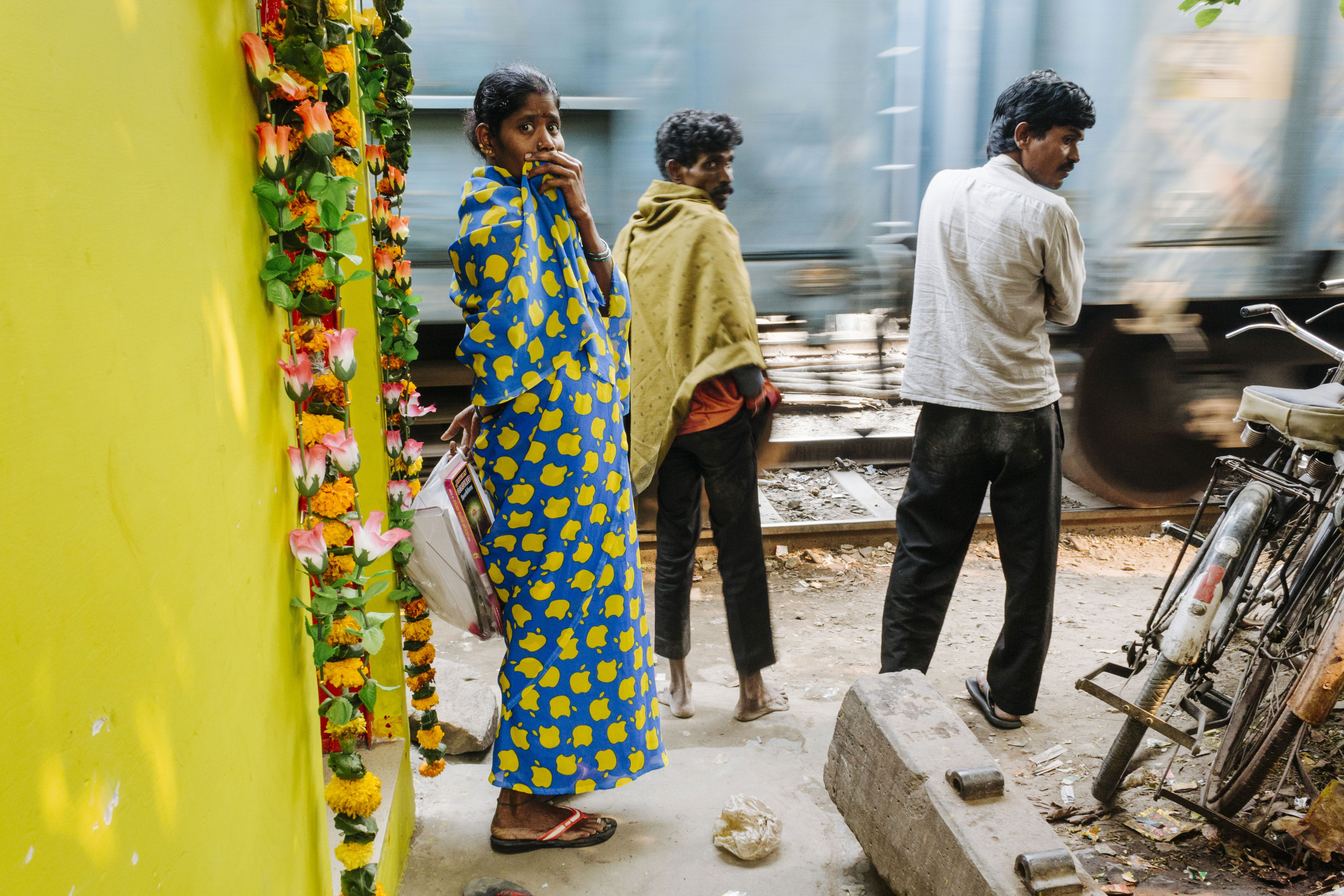 A woman covers her face while she waits alongside two men for the train to pass, so that she can cross the tracks.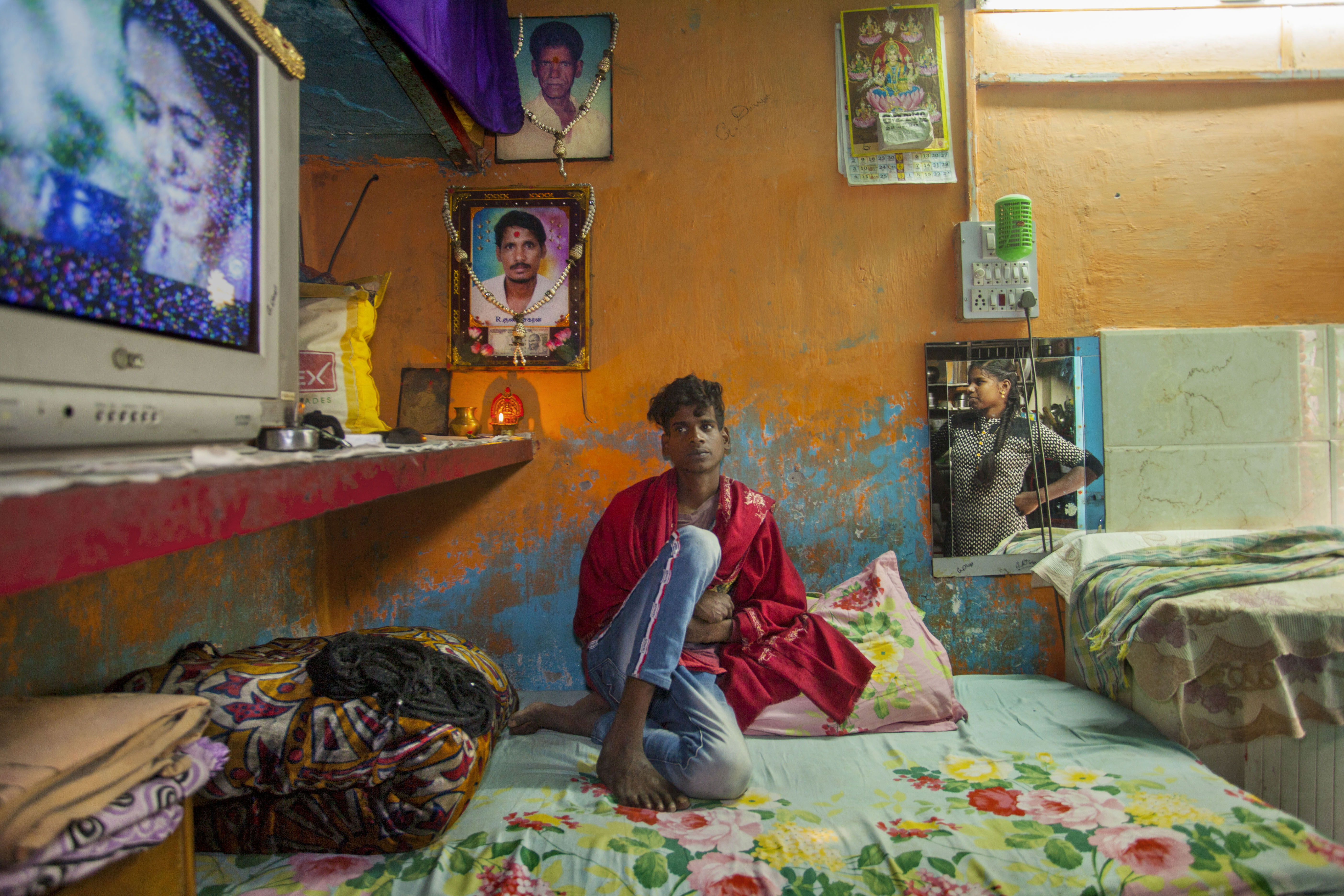 Arun and his sister, Divya, watch a Tamil movie on their television during Divya's lunch break from work. Divya, 14 years old, is a domestic help who serves at four houses, and is the sole breadwinner in her family since she lost her father to substance abuse. Arun is also into substance abuse and is recovering from jaundice.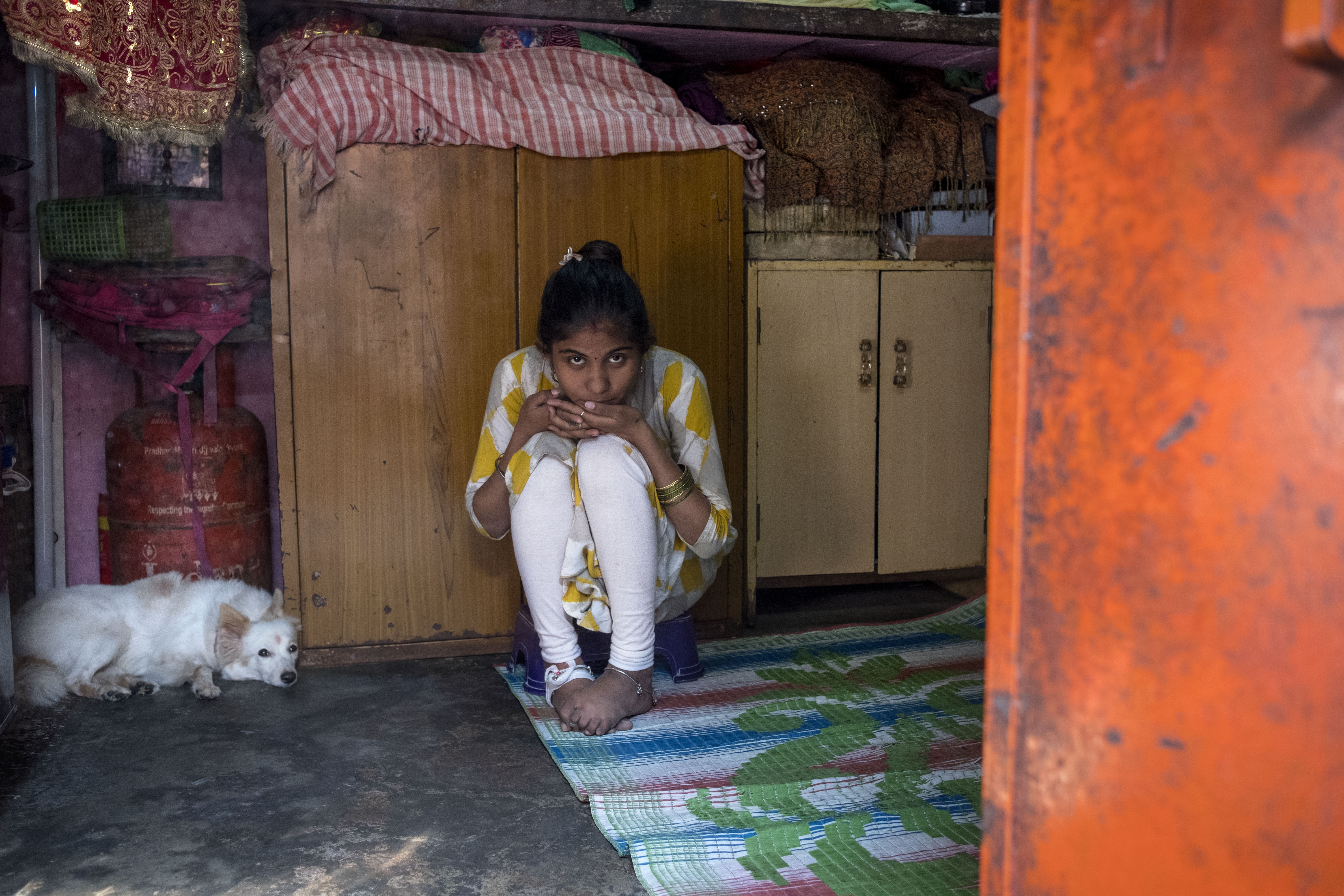 Sona, resident of Madrasi colony, shares a quiet moment with her dog. Sona married her husband, Vineet, when she was 16 years old. Vineet's parents have not accepted their marriage since Sona does not belong to their community. Sona left her studies and eloped with Vineet and now she is forced to work as a domestic help in the nearby neighbourhood to make her ends meet.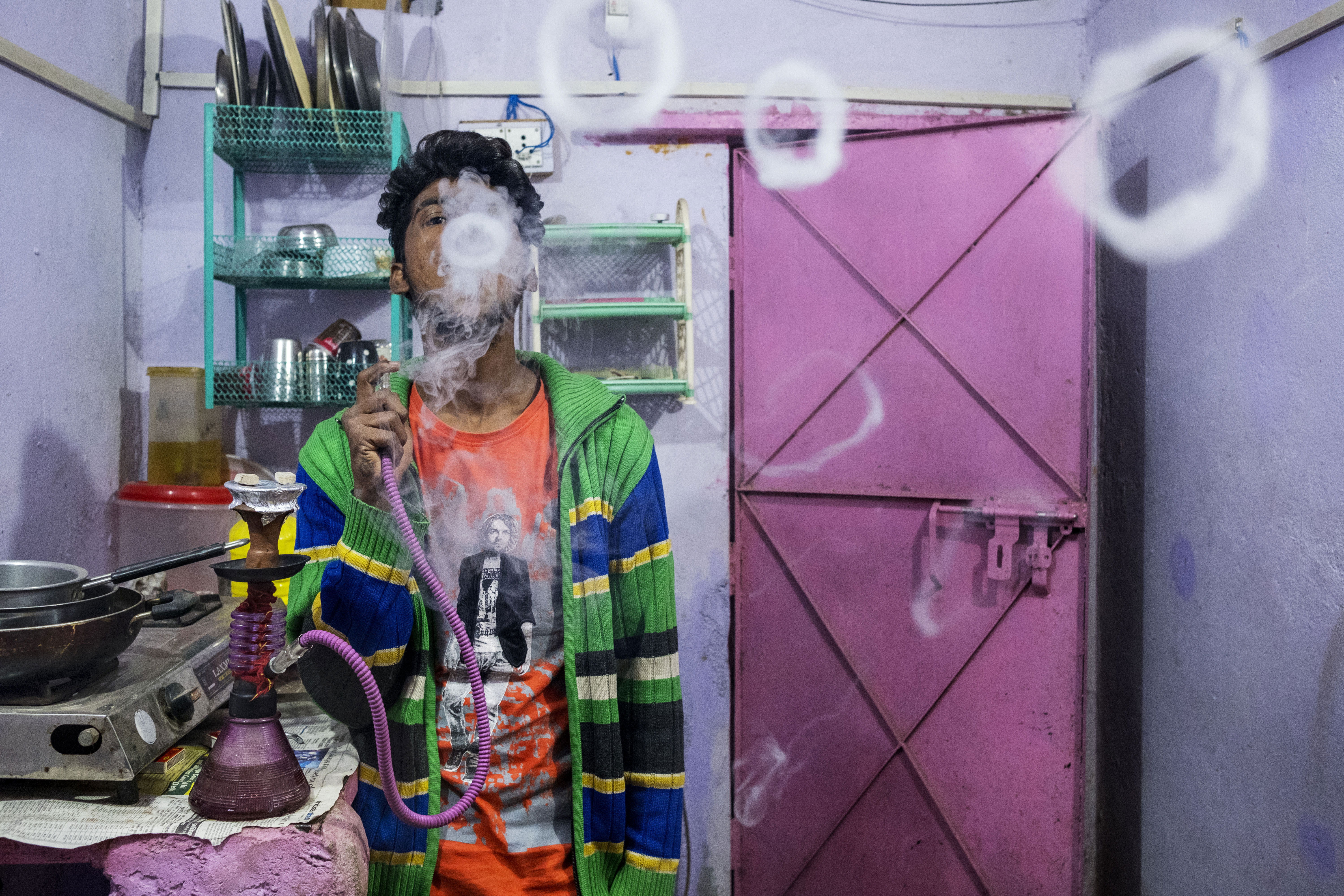 Vineet, Sona's husband, blows out rings while smoking sheesha. This is his favourite pass-time as well as playing cards with his friends at the tracks.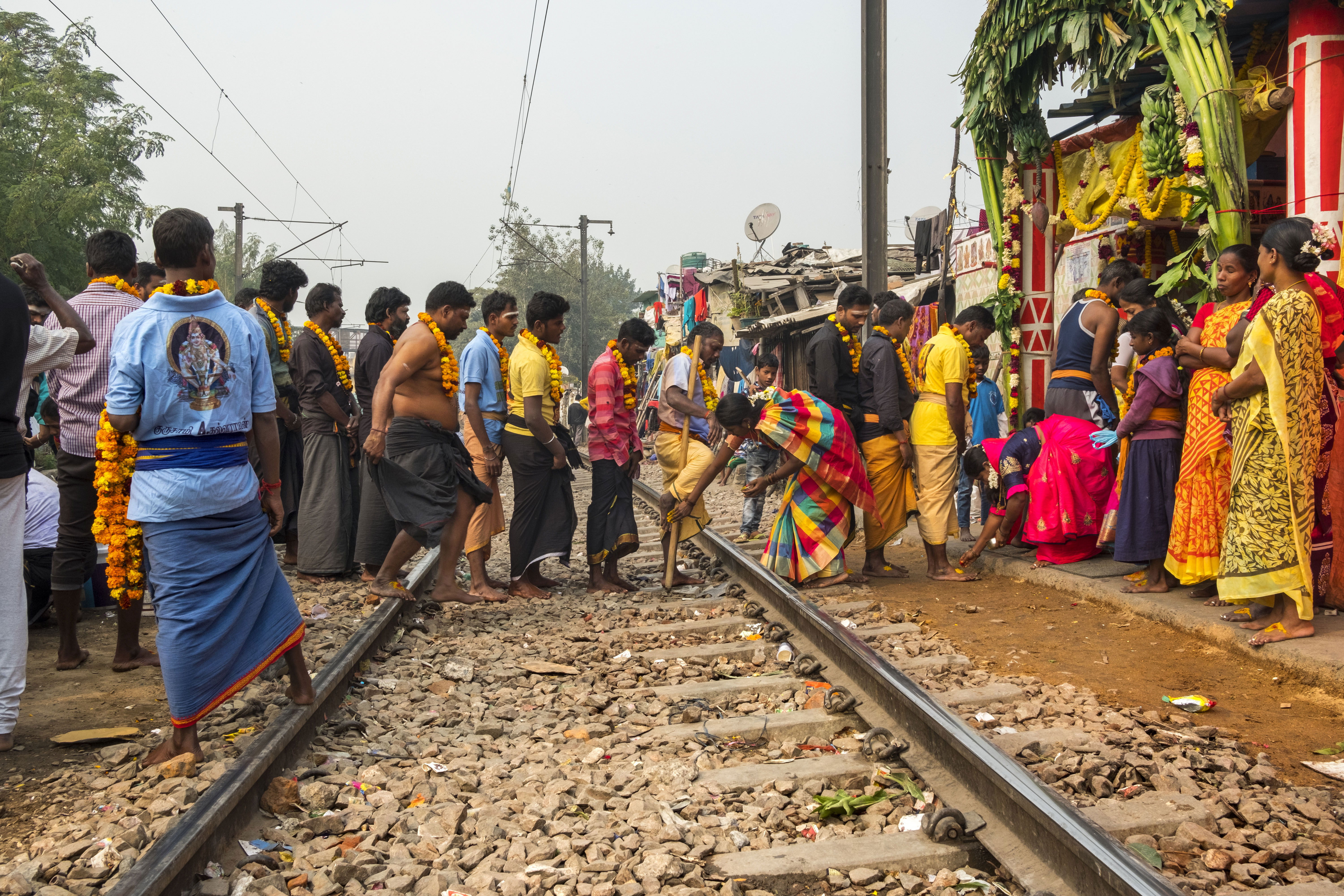 Tamilian women of Madrasi colony, clean the feet of a 'Swami' (Ayyappa devotee) during the holy month of Vrischikam - the 41-day fasting ahead of the Sabarimala pilgrimage.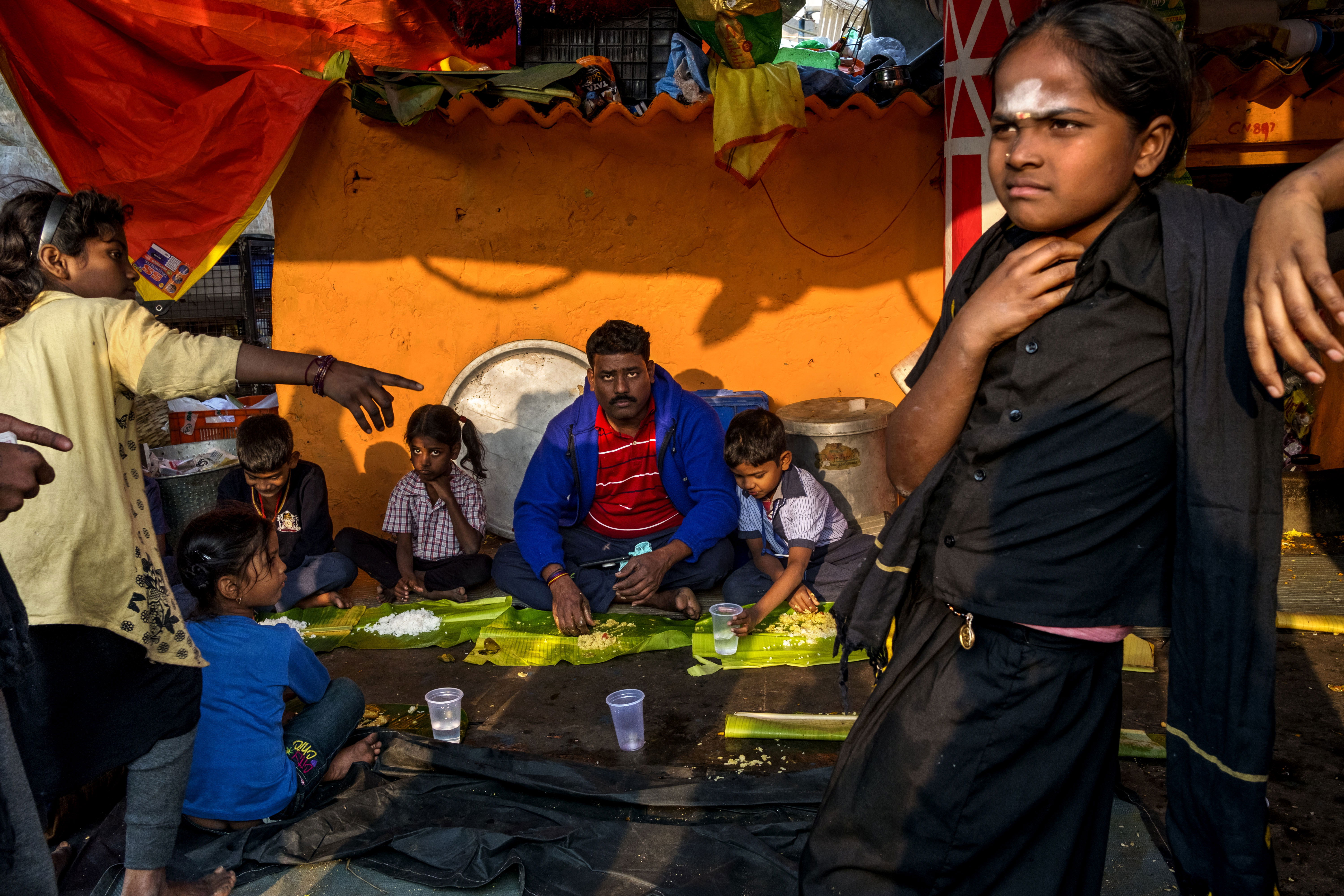 The residents of the colony, children and men, have sadhya (meal served on a banana leaf) at their community kitchen during Vrischikam.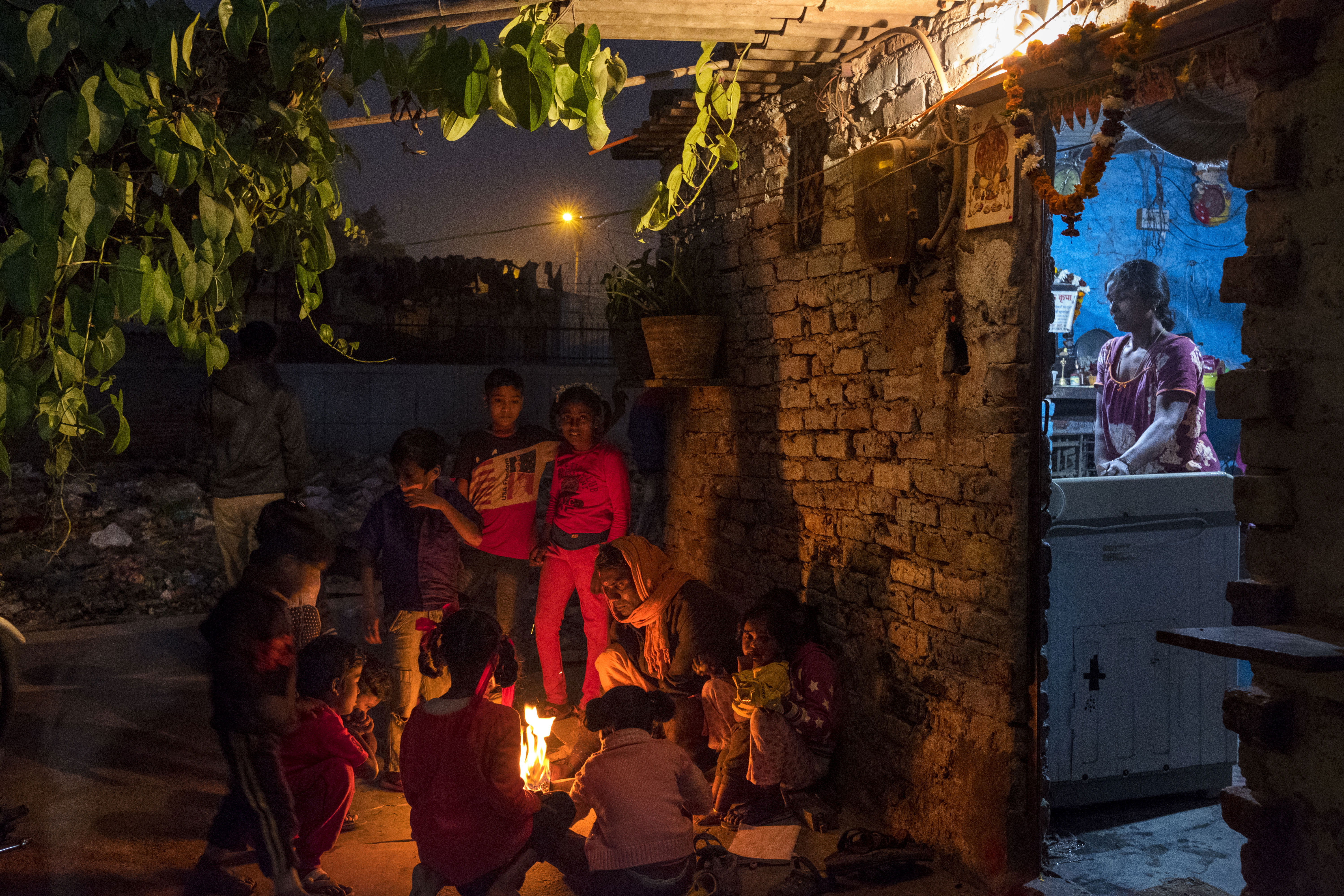 Group of children play around a bonfire on a chilly December night, while a woman washes clothes.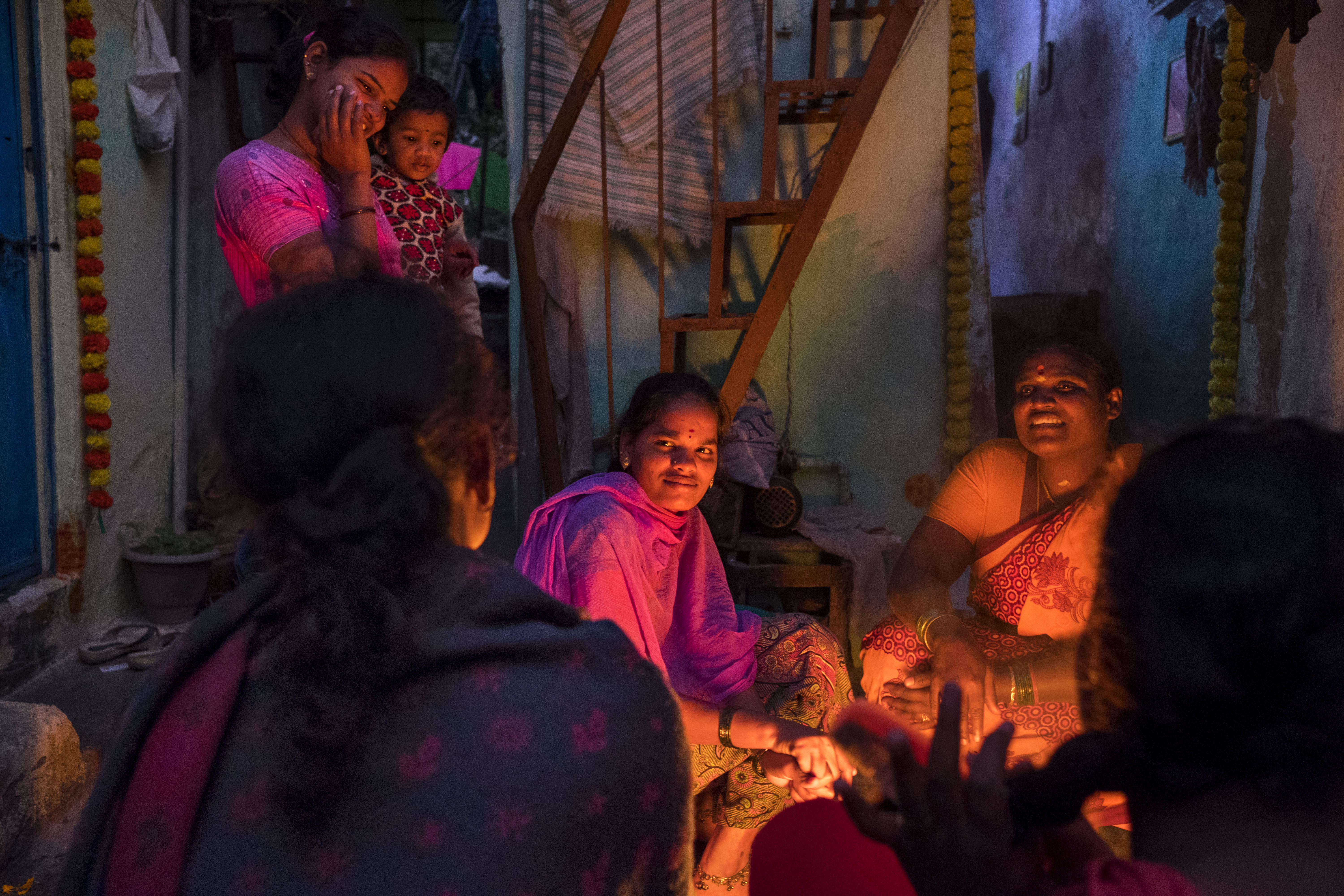 Women of Madrasi colony huddled around bonfire on a chilly Delhi winter night.
Vasudha Grover is a photographer based in India. Having completed Bachelor's in Commerce from Delhi University, she worked in a corporate research firm for 5 years. She further went on to pursue her Diploma in Photojournalism and Documentary Photography from Sri Aurobindo Centre for Arts and Communication (SACAC), Delhi. As a visual storyteller and documentarian, Vasudha is drawn to explore the world by walking, observing, and experiencing life around her and is interested in working on socio-cultural themes in India. She exhibited her work on 'Madrasi Colony' at India Habitat Centre in 2020 and her work on TB survivors was exhibited by Central TB Division at Central Park, New Delhi in February 2020.