Photography by Sweksha Gupta
Text by Manya Singh
You, me, everyone is caught in a tailspin of the deadly virus called Coronavirus and many of us keep spiralling towards and away from oblivion. Last March, all hell broke loose when the mayhem of nationwide lockdown was inflicted upon our societies due to the pandemic. The gaping breadth of this unequal world surfaced to our eyes, and I counted my blessings to be alive with a steady income, food, and shelter over my head in Dehradun. My journey here started in 2018 as a researcher who had to look at the water and ecological security issues in the Himalaya. The first two years before the pandemic allowed me to conquer difficult terrain, understand lives and livelihoods (non-human included) physically. Later, after two odd months of the first lockdown (May 2020), the richness of a middle-class early career professional was cashed and I had to move my paranoid, scared-to-death self to office and later to field. Being an anxious one in India doesn't help you in a world where negligence and non-compliance are a way of life. Nonetheless, life went on with fear and we welcomed fall with leftover warmth.
While counting my blessings, I never forget Dehra Dun. The valley at the Himalayan and Shivalik foothills has been harbouring me for the last three years and comforted me during a pandemic through its cleaner air, open and green spaces, and minimal chaos. This photo story is about birds, please don't go astray by my in-depth oversharing and evasive behaviour. I apologise for that. With fall, also comes the desire of being outside and hope that the sun shines bright on us. This indulgence allowed Sweksha (my colleague) and me, to be in the residential park outside our office. Finding solace in vibrant feathers and hollow bones dates back to my time in Gujarat where I and my ex-colleague, friend, a genuinely kind and warm person (Aditi) traversed the diverse districts of the coastal state to find data which is irrelevant in this piece.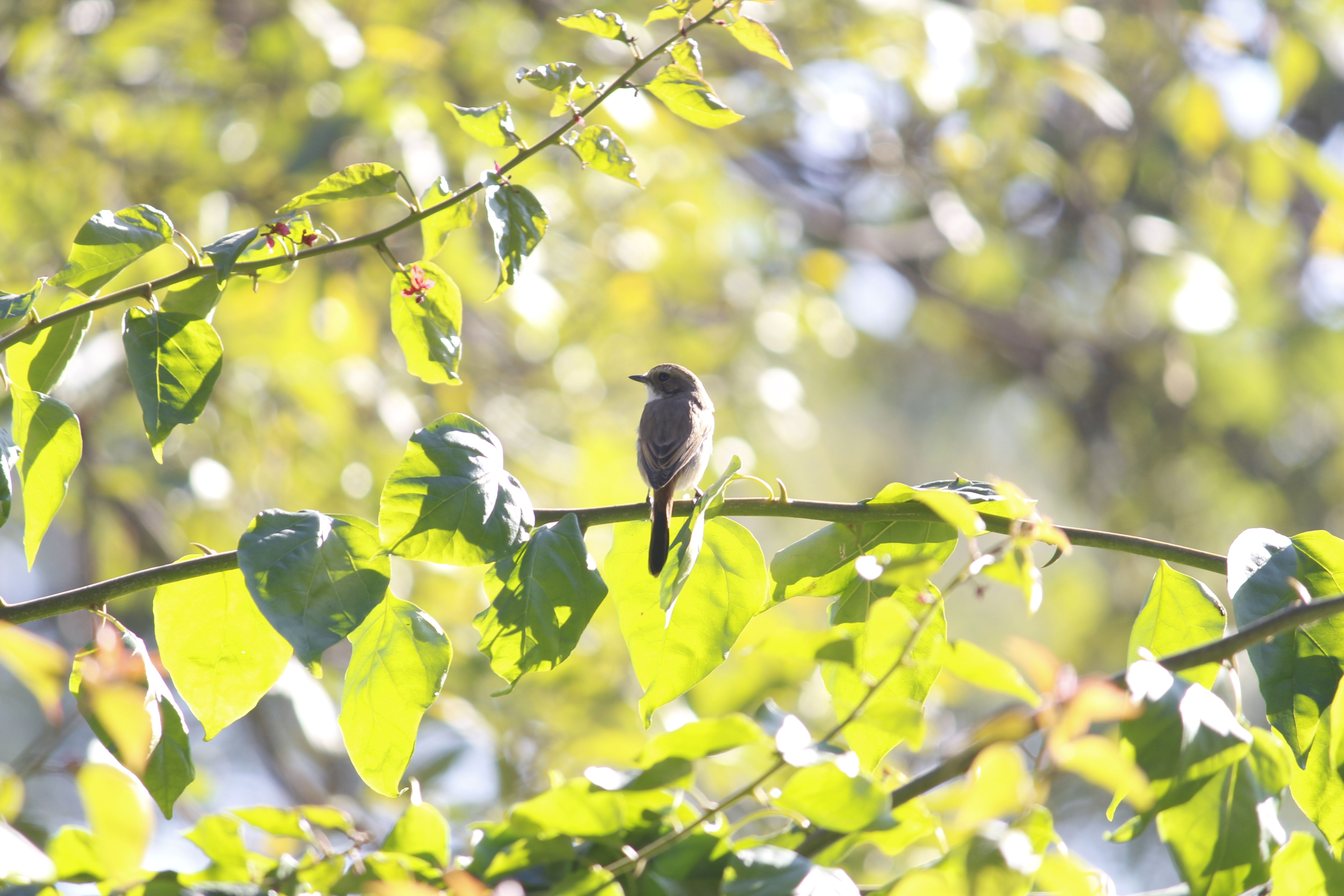 Grey Bushchat (female) on Bougainvillaea tree
A small walk to the park craving winter sun led to a flowerless bougainvillaea tree where a female Grey Bushchat was sitting atop. Just beneath it around the stem, a white-browed fantail was taking flights in loops and constantly alighting from the lower branch. Realising that Bushchat is gifted with a delectable voice and this one is seeking solitude, we didn't try to invade their privacy and stood right where we made our observations and stepped back.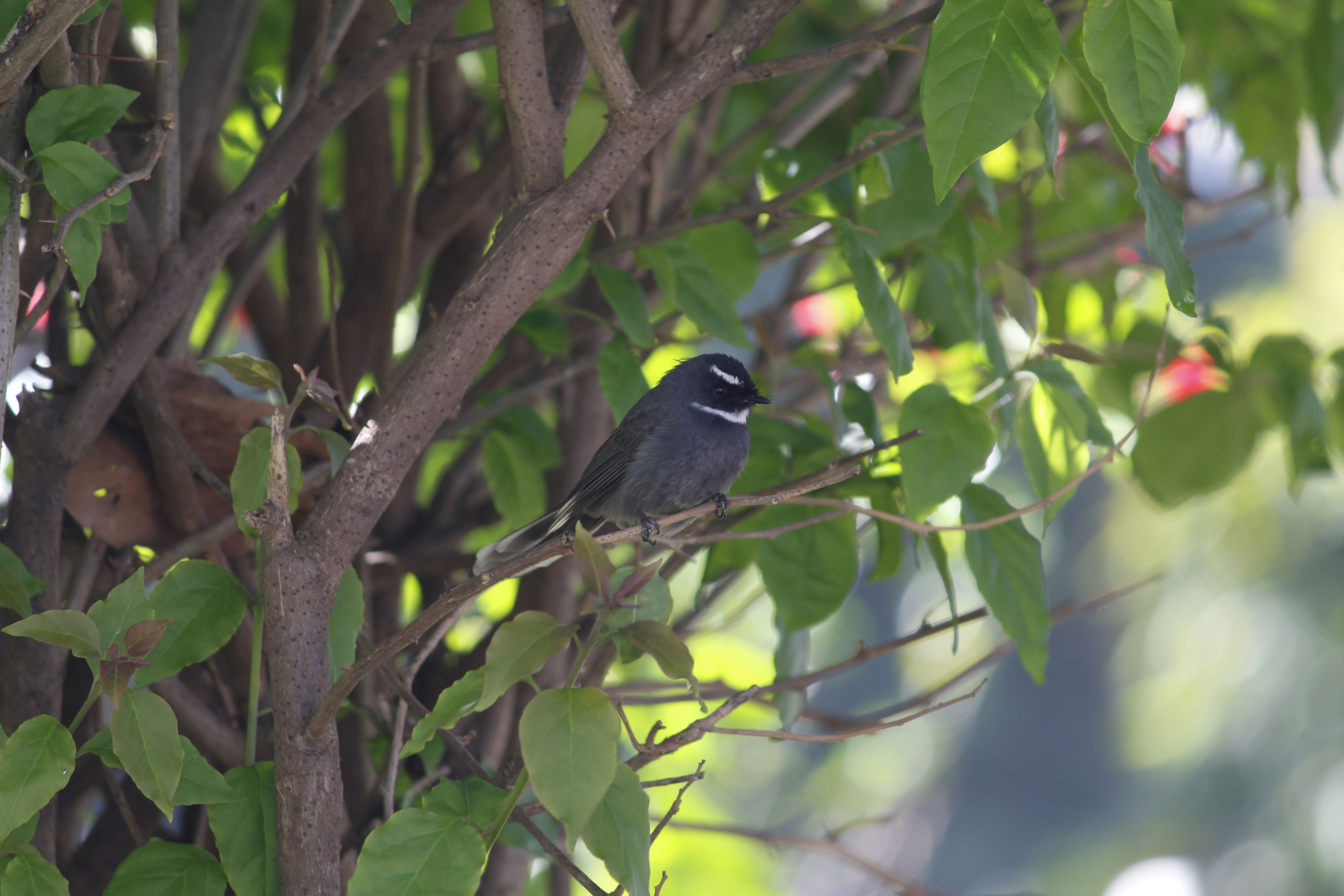 White-browed Fantail resting after looping flights
We started backtracking our footsteps when we heard someone "tooting". It was a piercing toot through branches of the River Tamarind tree. A brown coloured rounded small ball of feathers with sunflower eyes was staring at us. Sweksha, being in the initial love affair phase of the birdwatching world, talked to birds with pure human worldly conversations. At that moment, she simply asked the owlet to go sleep and stop messing with his circadian rhythm. She ran back to the office, collected her camera, rushed back to the scene of observation and found that the owlet was not bothered to move at all. He was like the millennial with a fancy degree which was good for nothing and remained confined in the current job market which is more depressing than the Great Depression.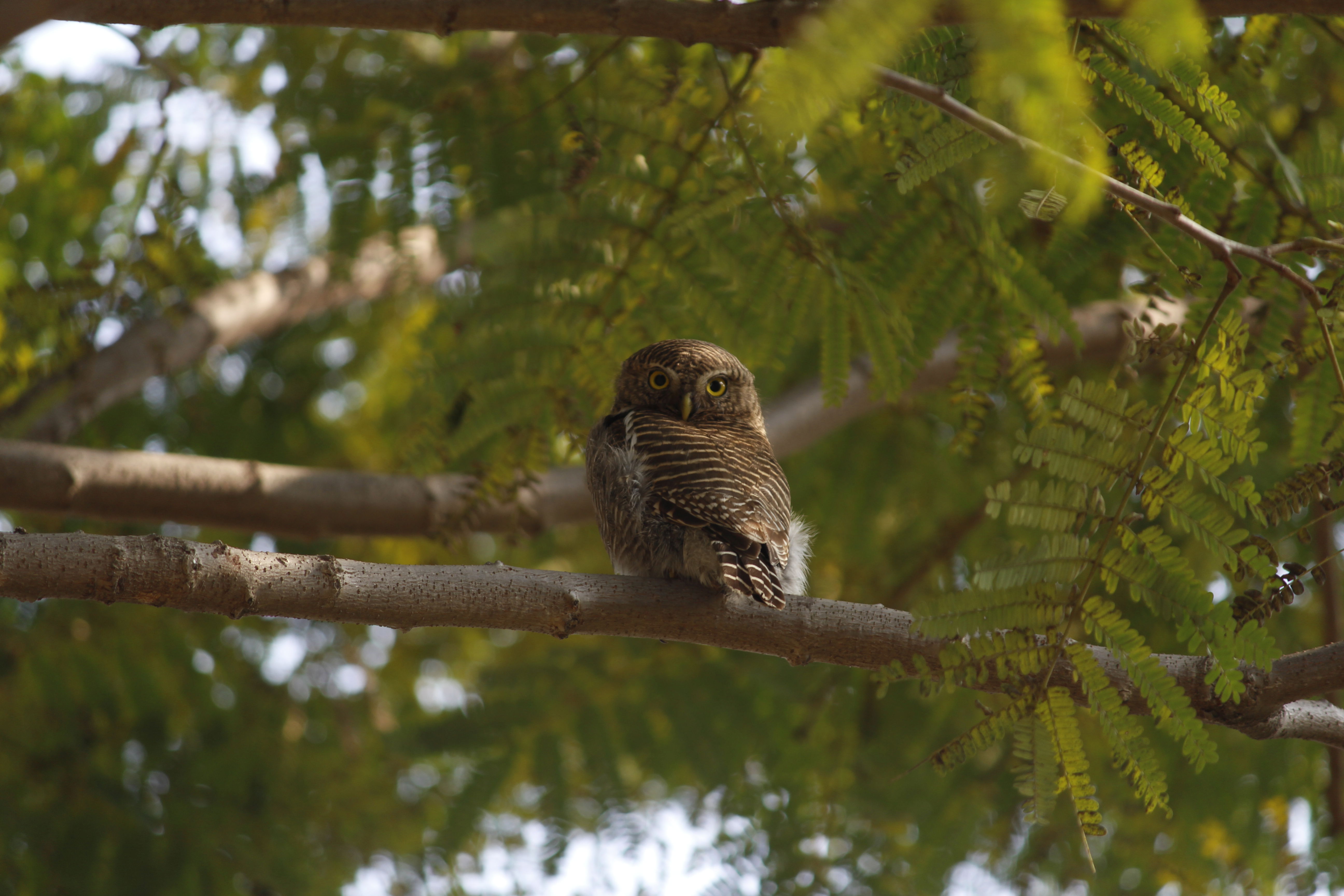 Asian Barred Owlet perching low on a River Tamarind tree
Circling the park we reached the Bouganvilleae tree again scaring the Bushchat to fly off. We felt sorry but nosy is the way for humans. Isn't it?
And, is it something that when you start sighting birds, you see more and more of them? This indulgence continued for the next few months and it made us document the winter visitors of the park in Vasant Vihar Phase 1. The sun was lukewarm then and the temperature rose up to 21–22 degrees Celsius. In the park, at the very corner where Bouganvilleae stood, there were several other trees such as multi-storied River Tamarind, a dwarf Mulberry, Magnolia, Blackboard tree and a magnificent tree which I know now after it flowered. Earlier we knew it as the tree which sheltered many Common Tailor birds and Oriental White-eye. The tree is called several names in the Indian sub-continent, "Dhak", "Tesu", "Chula", "Palash", or "Flame of the Forest". The flowers sets after the whole tree withers. During flowering, the tree appears to be set ablaze with its orange-coloured flame-like flowers. My father told me that the Palash flowers were used as Gulal (Red Powder) in rituals and festivals.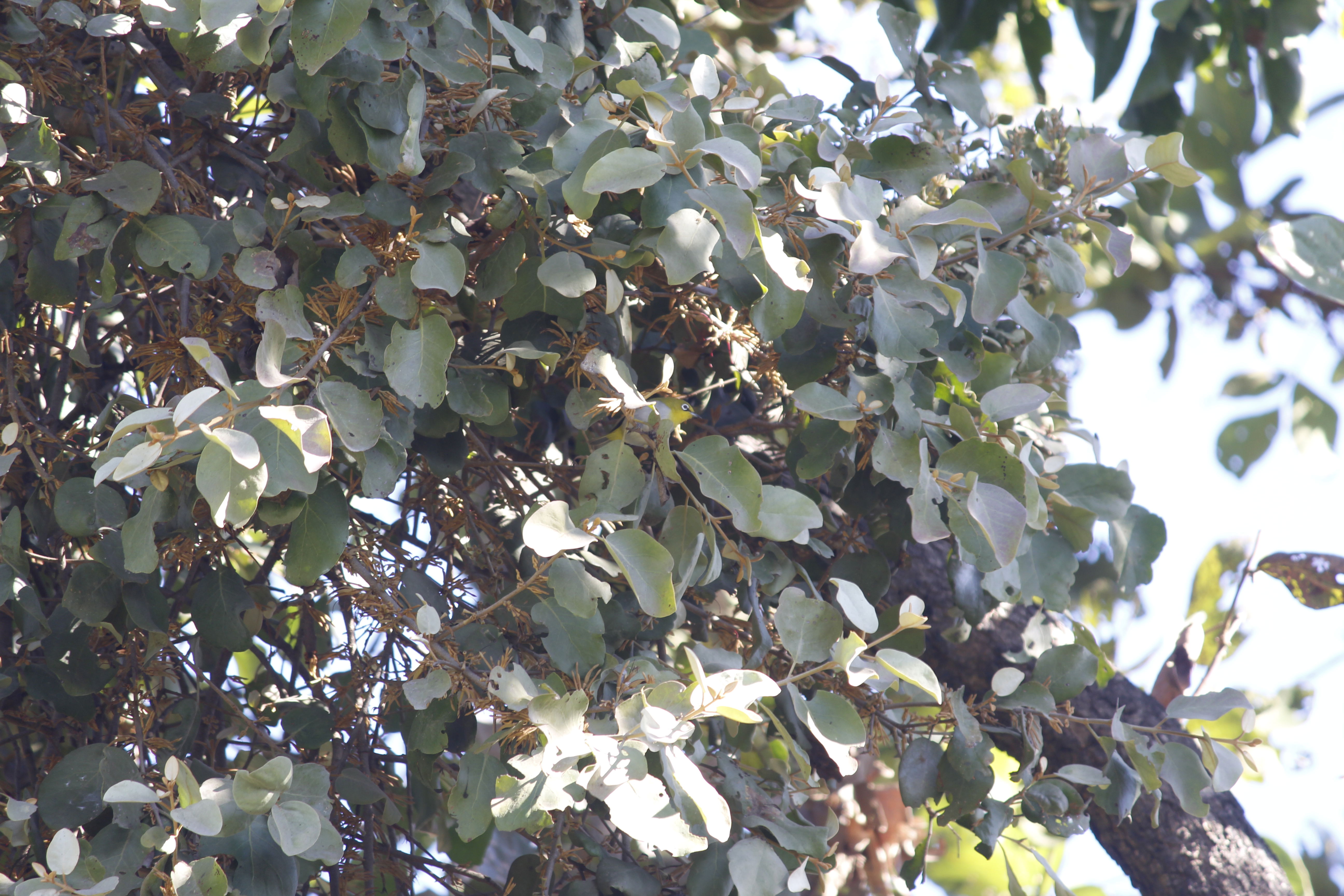 Oriental White-eye hiding in the Palash tree
Its broad leaves are also used to make leaf plates in rural households. Now white-eyes are little passerine yellow birds with a white belly and white spectacled eyes. These are light-footed hyper-active birds that challenge a bird-photographer and also sharpen their skills. Common Tailor birds, on the other hand, are the most commonly found urban garden-variety small passerine bird with a greenback and signature reddish crown. They are known to build a nest by sewing leaves together by plant fibre. Its long bill does the work of art. It feeds on the ground and one can encounter them loitering in the ground very often, looking for insects.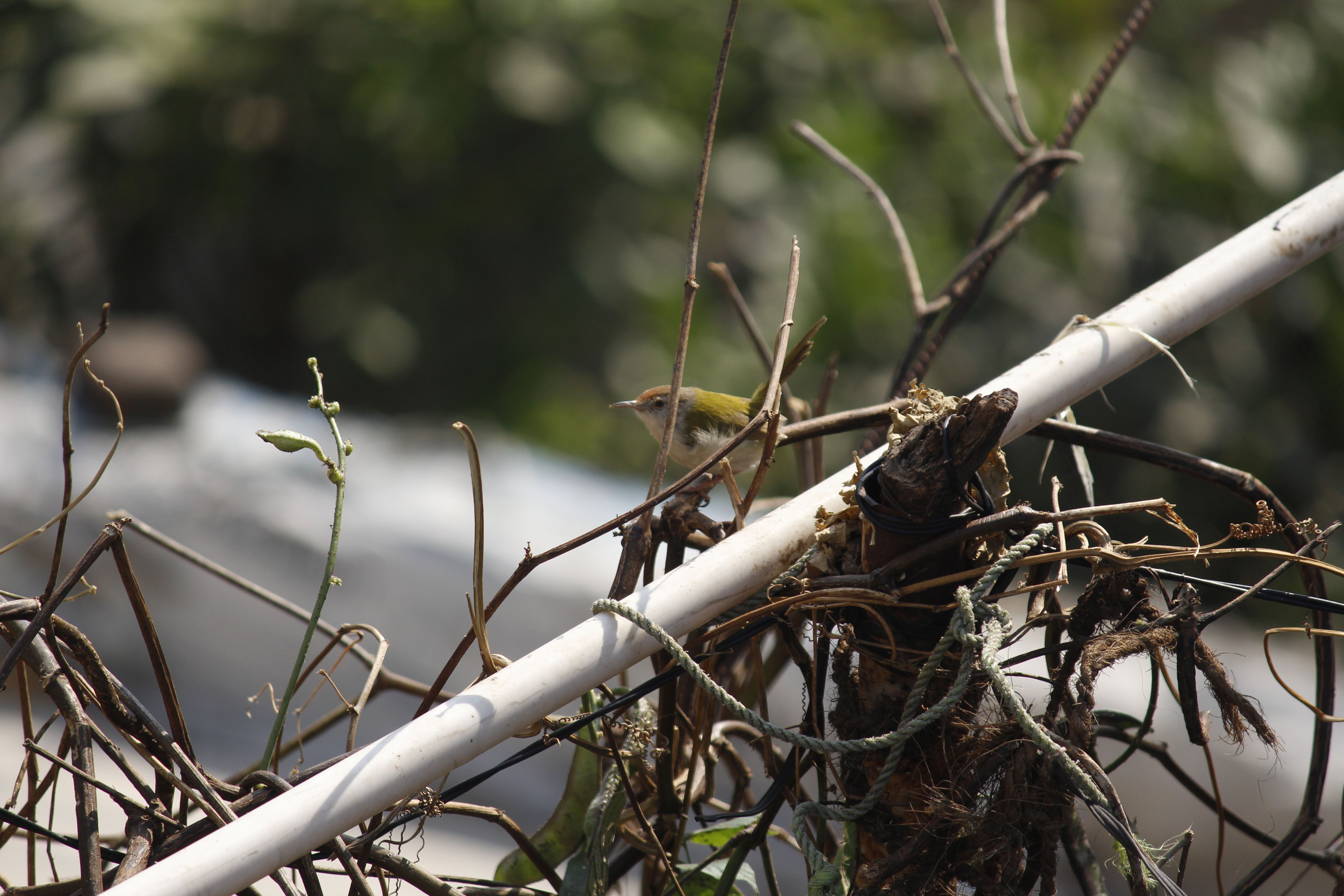 Common Tailor Bird (somewhere around the park)
At the same corner on the mulberry branch, we witnessed something unusual coloured resembling twirls around a swarm of flies. This bird was leaner and bigger but again greenish in colour but with a distinct grey head. It was a grey-headed canary flycatcher, living up to its name. The upper body was olive green, and the lower body was a vibrant yellow with a wedge-shaped head. We were very quick to declare that corner as a biodiversity hotspot of the park. During the pandemic, it also became a doorway to meet living creatures that bore no harm.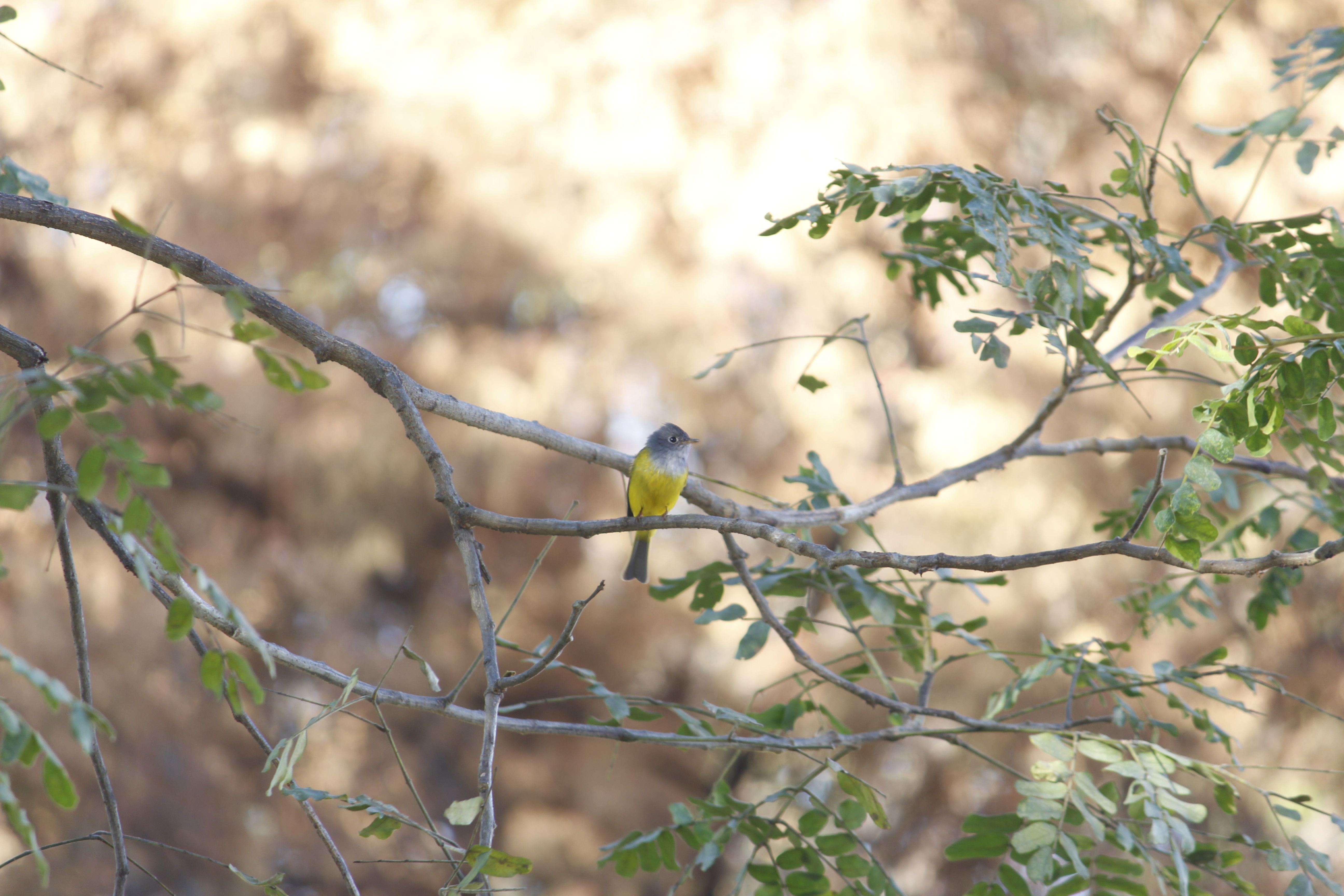 Grey-headed Canary Flycatcher perching on Broome Raintree
Our declaration was later validated when the most incredible bird was seen perching atop the Palash tree. A long-tailed Minivet- a bird bigger than a sparrow having a fluorescent scarlet red coloured body and part of wings paired with black head, wings, and tail. This extraordinary bird made quite a many visit to the park, and once, it stopped by with two female partners. The females are yellow and greyish, analogous to red-black males. This time they were perching high on the multi-storied River Tamarind tree but at the anterior end of the park.
I was also expecting migratory winter visitors too. Few of them showed up and others must have followed another route. Himalayan Black Bulbul stopped over for a few days but the Scaly-breasted Munia and Yellow-breasted Greenfinch were nowhere in sight. Black bulbuls are chatty, medium-sized songbirds that are more grey than black with a trendy crest of short hair. The body is embellished with a bright red beak and legs. Bulbuls have been able to surprise us many times with their remarkable range of species and distribution. Sweksha with her refined auditory perceptions was able to identify the call of a laughing dove in a bustling street. While exiting the park after our daily ritual, a strong krrrrrr stopped her. She scoured through the height of Persian lilac at the gate of the park. We found a sun-lit bird that perched for seconds and took a dipping flight in a jiffy. Traipsing back to the office, we confirmed that it was an Indian Golden Oriole, a Myna sized bird with a bright yellow body and black wings. They are also believed to change your luck for the better. We soaked in the sighting, laughed off the beliefs and sighed.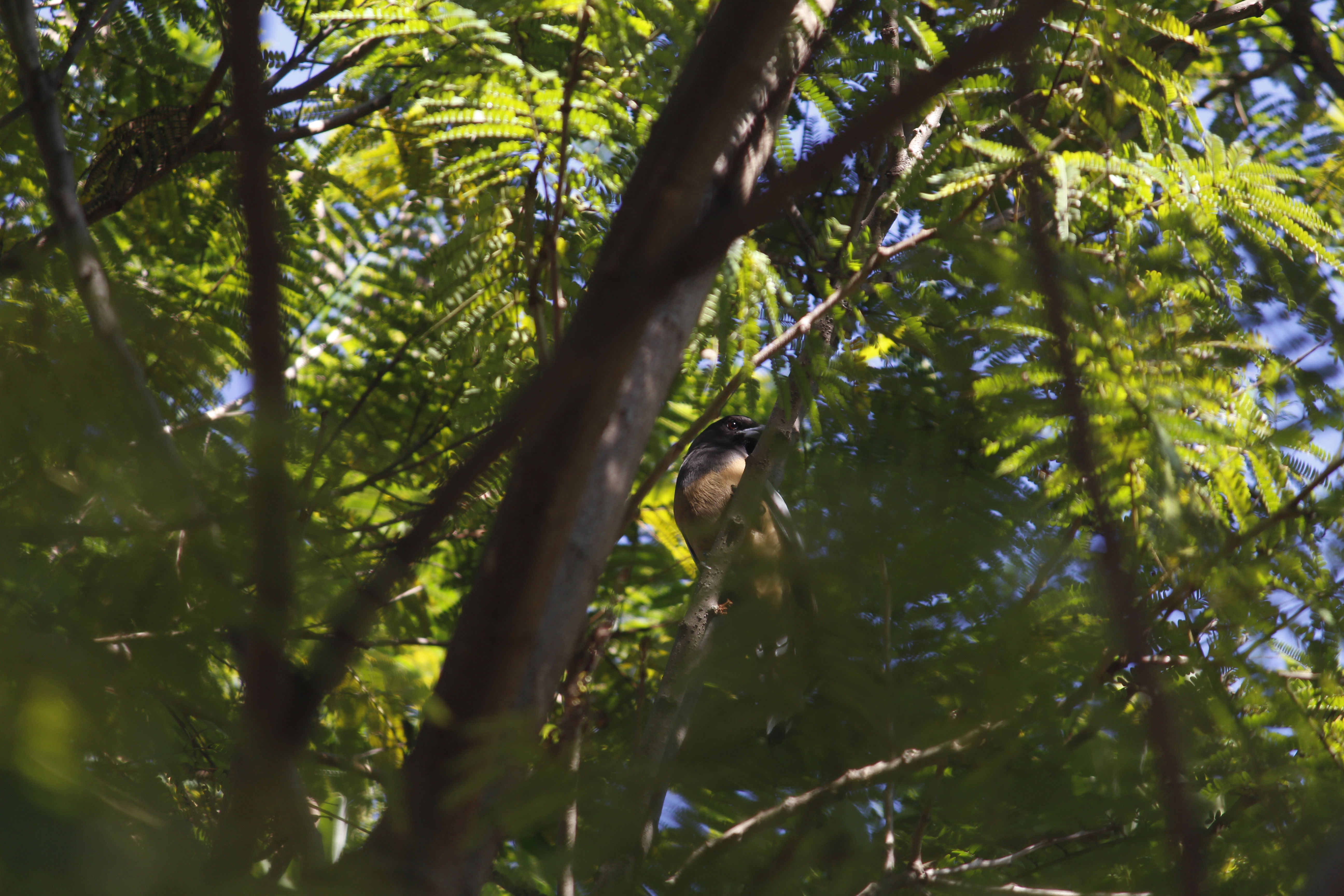 Rufous Treepie
Another day, a bird-enthusiast from Nainital sent a picture of Maroon Oriole in one of our bird groups. A few days later, the universe somehow aligned its energies to put a Maroon Oriole on the branch of a Silver Oak tree at the edge of the park in Vasant Vihar Phase 1. I would not have identified the bird if I didn't have the image of a black-maroon bird with a silver long bill in my memory. This sighting was again based on a call heard by Sweksha. We immediately verified it on Google after a satisfying observation of the bird.
One morning, a group of men assembled in the park. Some residents have raised concerns about the multi-storied Subabul trees fearing accidents and sunblock in winters. Goodmen with bad intentions arrived with their chainsaws and ropes. They started determining the felling directions, the angle of cuts, the amounts that need to be lopped and those who need to be felled. We had arguments, infinitesimal resistance and micro-rebel but in vain, since it's a community park with many members approving of the contemptible decision. That's how democracy works, with the majority deciding for each one of us. Within a week, our undisturbed forest-like park turned into a degraded forest-like park.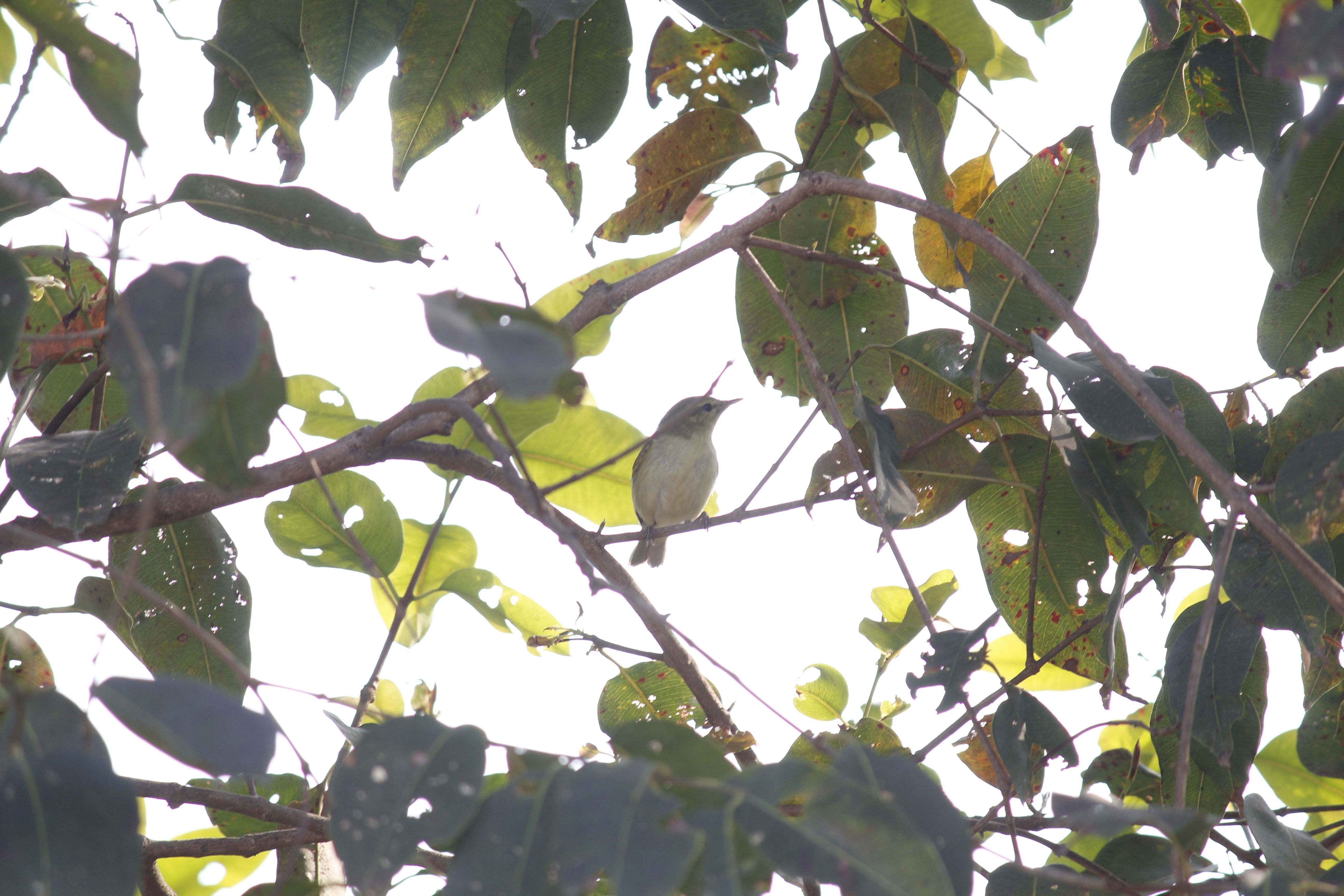 Tickell's Leaf Warbler
The hotspot is no longer a hotspot and the birds have found refuge in scattered parts of the park. The Bushchat can now perch on the remains of the trees lying on the ground which will be collected for fuel and wood purposes later. The earlier less dense corner is the new hotspot. Many types of warblers have shifted their base here. Green warbler, Tickle's leaf warbler, Yellow hooded warbler, etc. could be seen flocking and singing then. The grey-headed canary flycatcher is now comfortable where most birds are. Bottlebrushes were somehow saved by the evil eye of the residents, probably because they pose no threat because of their small and lean stature. These bottlebrush trees have embraced many crimson sunbirds, white-eyes, warblers, etc. I have also seen a Coal tit flocking from the Blackboard tree to the Bottlebrush tree once.
Not sure if this park is home for many, but it is a rest stop, a hopeful place, and an evening hangout for many birds and for us too.
Occasionally, we have also seen: Hair-crested Drongo, Black Drongo, Plum-headed Parakeets, Rose-ringed Parakeets (male/females), Red-vented bulbuls, Himalayan Bulbul, Nuthatches, Grey hornbill, Oriental Pied Hornbill, Turtle spotted dove, laughing dove, Green Bee-eaters, Rufous treepie, Raven, House crows, Kites, Cattle egret, Shikra.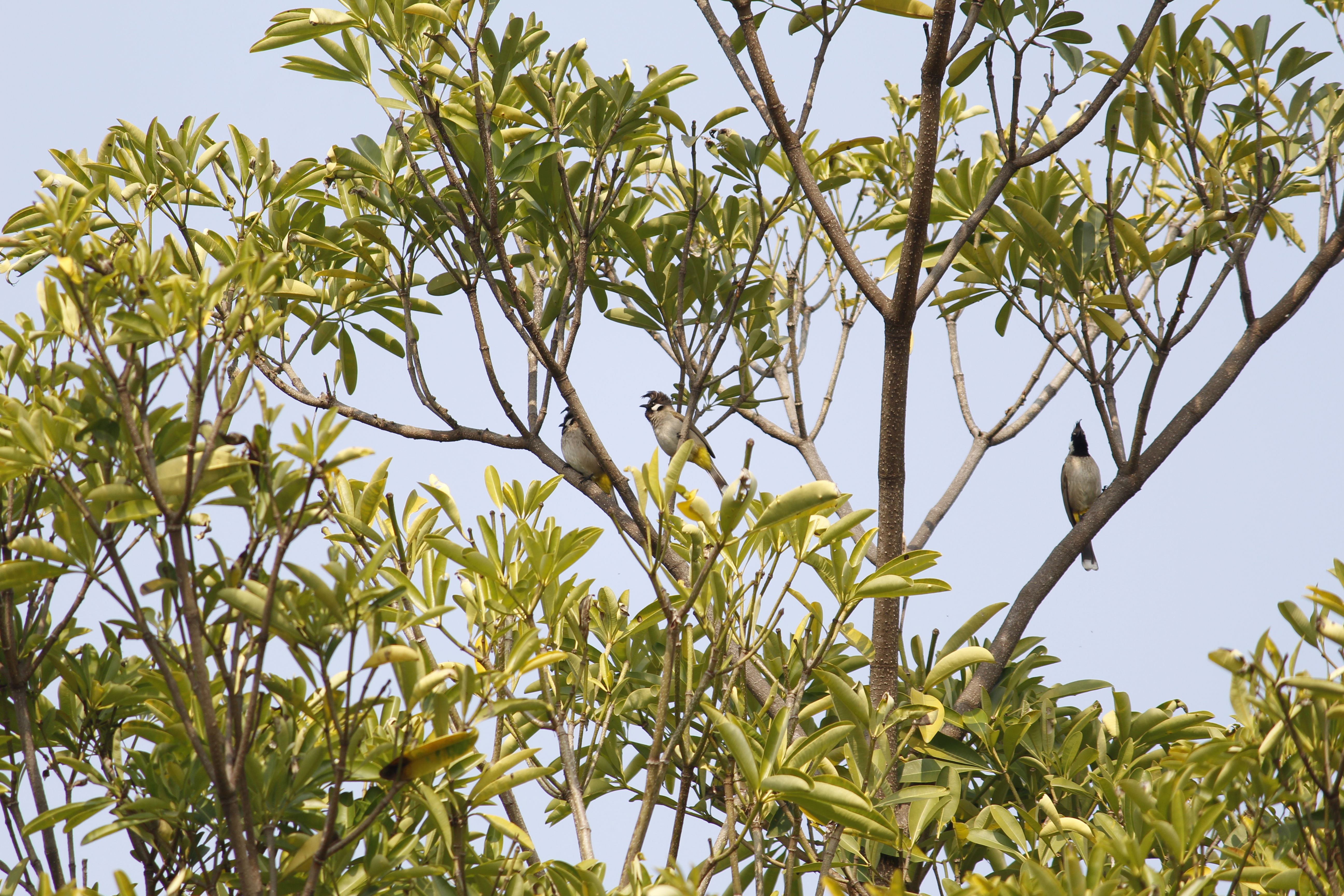 Three Himalayan Bulbul perching high on Blackboard tree.
Manya Singh is a researcher working at the interface of science and society. When she is not researching or chasing deadlines, she likes to write, paint, and read fiction and historical retellings. She is also a birder who has a habit of marking her new sightings on the calendar and annoys non-birders with the details.
Sweksha Gupta is a passionate bird enthusiast with a background in Environmental Sciences. An amateur photographer, she loves to capture birds through her camera preserving special moments in time. She is also an animal lover and can be seen petting dogs on the streets.