I should bring your attention towards a unique and unnoticed quality of Ambedkarite movement and anti-caste movement: the choice of aesthetics. Aesthetics that have existed and have been existing since the anti-caste revolution by the Buddha, aesthetics that were developed during the times of Sant Ravidas and Sant Tukaram, aesthetics during the time of reformers such as Savitrimai and Jotiba, aesthetics practiced by Dr Ambedkar, and aesthetics post Babasaheb, continues to be practiced, evolved and reformed by the community. I should bring your attention towards a unique and unnoticed quality of the Ambedkarite movement and the anti-caste movement: the art itself. The art practiced by the huge chunk of people from the depressed classes or Scheduled Castes, tribal communities and other marginalised communities, that has been neglected, left undocumented, looked down upon and frowned upon is the art of the past, present, and the future of this union of people we call India.
I should bring to your attention the art side of Ambedkarism, the side that was uncovered by Babasaheb himself. If one notices the title or header of Bahishkrut Bharat (1927), published by Dr Ambedkar, one can observe lions in chains holding the subcontinent's seal. It is my observation after analysing the available layouts and designs of Mooknayak and Bahishkrut Bharat (both published by Dr Ambedkar), the anti-caste movement had a keen eye on symbolism and its benefits for the community. As the editor of the two weeklies, Dr Ambedkar did a really influential job in finding the most readable, minimal and modern page layouts for his publications. From the choice of his suits to the architectural simplicity and functionality (a residential library) of 'Rajgruha' (Dr Ambedkar's house in Mumbai), Babasaheb had an eye for design. At the least, he knew the importance of design before design was even a subject of study in India.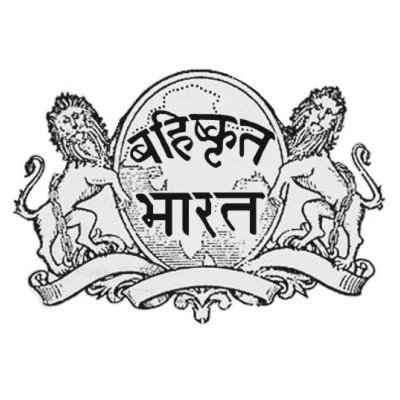 The header illustration of the newspaper published by Dr Ambedkar

With independence, Dr Ambedkar's constitution of liberty, equality and fraternity, and Phule's idea of right to education for all was made into reality. Babasaheb was the designer of the constitution of India, which is not just a legal document but an emotional text as well, so emotional that people from the marginalized communities give its copies as gifts in marriages and similar ceremonies. Dr Ambedkar's influence also gave a renewed iconography of Dhamma chakra and the lion capital seal. This went on to change the iconography and semiotics of the sub-continent.
Ashoka chakra as the only figurative symbol of the Indian flag became its important identity. On Independence Day and Republic Day, while the 'majority' of India adorns their spaces with the three stripes of lights; orange/red (due to unavailability of saffron colour for light), white, and green, the 'minority' dalits choose to embrace the Dhamma chakra everyday. The Dhamma chakra was found in the majority of these 'minority' spaces even before the current infamous and popular nationalist era.
I should bring your attention towards the art side of Ambedkarism after Babasaheb's parinirvana (death). The Dalit Panther movement, started by young and radical artists, thinkers, doers and revolutionists made way for Scheduled Castes (SCs) and Scheduled Tribes (STs) to practice various forms of art through academic education and professional practices. Design was still scarce in the community for a very long time even though institutions such as the National Institute of Design (NID) were already established. NID was feeding their young graduates (mostly oppressor castes) with Dalit-Bahujan-Adivasi knowledge and skill set, but wasn't able to convert young traditional artists (from these depressed classes) into designers like in the West, specifically as in Italy and Germany.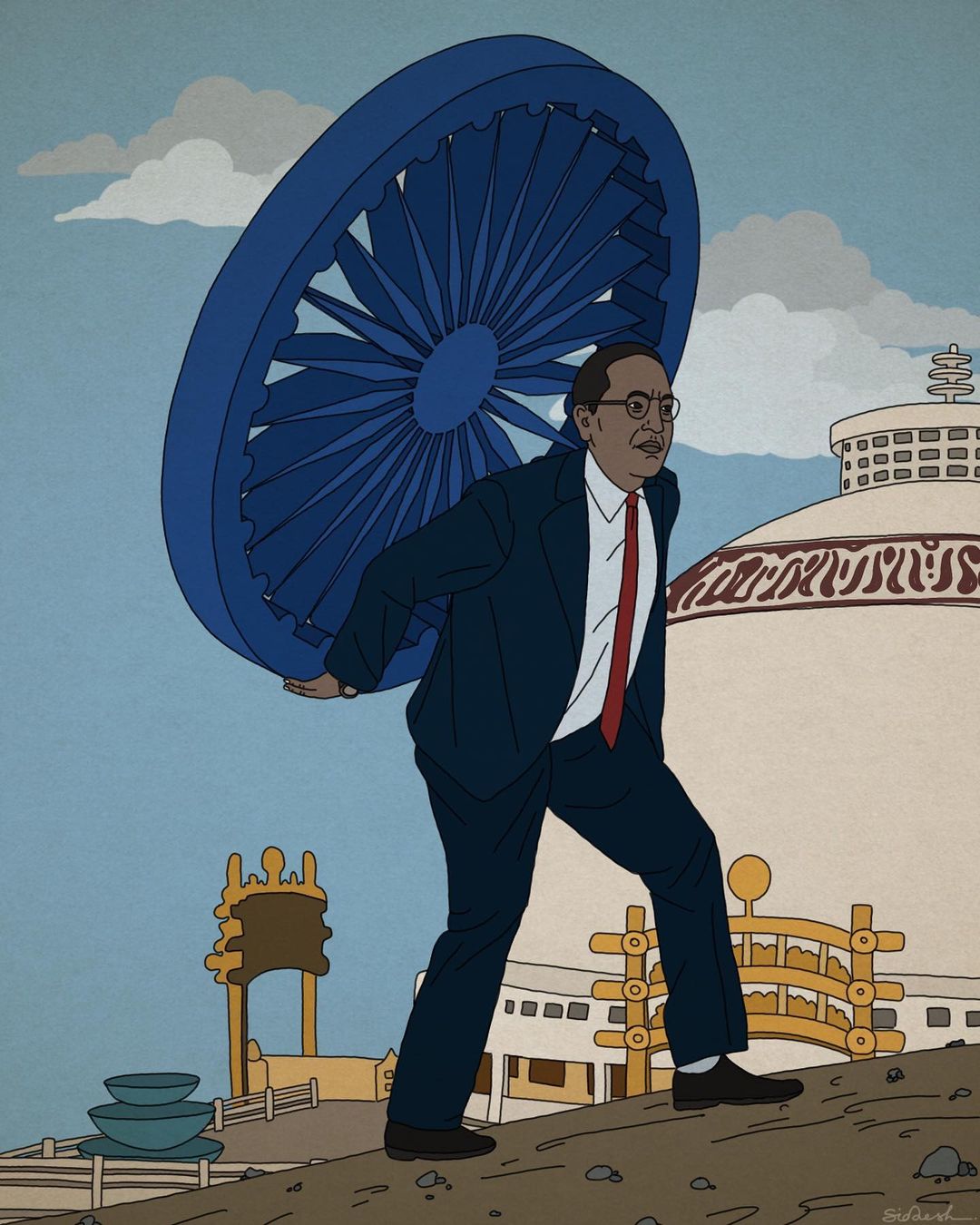 Babasaheb and the Dhamma chakra/ Art: Siddhesh Gautam
As more and more people from the depressed classes elevated their economic conditions, they practiced their art and implemented it to make their homes, home decor, book shelves, and so on. The people started developing a new imagery of Ambedkar, Phules, Ravidas, Nandnar, Chokhamela, Ayyankali, Buddha, and many more. These non-academic and informally trained artists from different spheres rediscovered Buddha and referred to Buddha and his Dhamma, where Ambedkar rediscovered and redistributed the Buddhist values and gave new meaning and direction to Buddhism. The people collectively redesigned the new iconography for the community, both, consciously and unconsciously. The image of Ambedkar and Buddha started emerging everywhere, in many homes, small scale businesses and government spaces. Ambedkar was painted, printed on paper, developed on fabrics, tiles, nameplates, desk embellishments, accessories, and so on. The colour blue was splashed all over the skies as blue flags became the symbol of Dalit resistance. The Dhamma chakra became a national symbol accepted dearly by the masses.
As the Indian economy became more free during the liberalisation in the early 1990s, the community had already evolved some dalit aesthetics that were prominent, sharp, radical and inspiring! These visual symbols kept the community united for all these years. While there's discrimination in modern India in the name of merit, it's these symbols that keep the people of the community agitated, educated, and organised. They'd look at Ambedkar and find their passion, they'd look at Buddha and find peace, and they'd look at Periyar, Phule, Ravidas, Tukaram, Ayyankali to find discipline and motivation. These visual imageries became part of office stationaries and merchandise as the community members grew in position in their careers and businesses.
After economic liberalisation, a pool of young dalit and adivasi students started to enrol themselves at premier arts and design institutions. The seats that remained empty earlier now saw huge competition.
These young SCs and STs are now composing music and making music videos, making films, graphic novels, running and developing applications and websites, doing exhibitions in India and abroad, speaking about their work at national and international platforms, publishing their work globally, working as entrepreneurs and developing design and art studios and spaces.
I should bring to your attention that this is the age of redesigning Indian aesthetics and this could only be done by DBA community or else we'll be stuck with the same mediocre aesthetics and imagery in the pop culture that has stereotyped and stopped the progress of the artistic thought in India for a very long time. It is time for the real proletariat of the country to take charge of the stories that can really build this nation and put it back on the path of progress: towards justice, equality, liberty and fraternity.
To know more about the artist and his work, you can listen to a podcast interview of him by Anurag Minus Verma here: #11 WIth Siddhesh Gautam
Siddhesh Gautam is a Delhi-based multidisciplinary visual artist, designer, treasure hunter, fallen angel, soul searcher and an Ambedkarite. His work is meant to challenge our preconceptions, expand our mind, honour the sacred, and evoke feelings of agitation, exploration, and deeper connection with the self. He posts his artworks on Instagram @bakeryprasad.